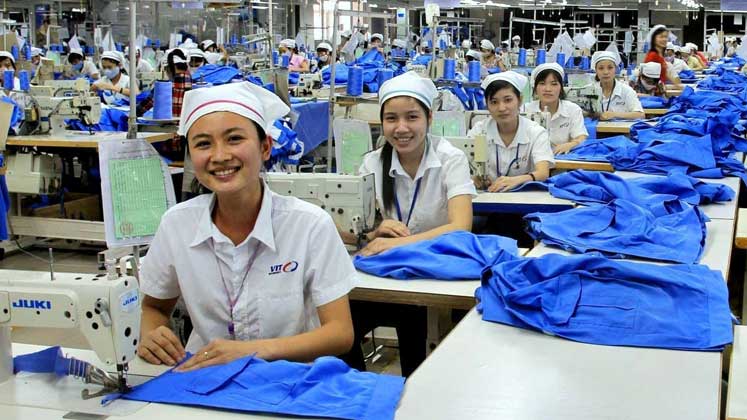 TET holidays of 2019 are finally over in Vietnam, and for a change, one could see lots of garment and textile workers resume their offices and factories on time. However, it hasn't been the same story always and this perhaps remains the biggest challenge for every garment manufacturer in Vietnam around this time of the year.
In early 2018, Doan Mau Diep, Deputy Labour Minister, Vietnam, had said that a productive 2017 would enable the Government to pay good bonus to its garment workers in 2018. Since the country's garment and textile export turnover clocked a whopping US $ 36 billion in 2018, there definitely should not be any problem for the industry to provide better bonus and better benefits for the workers in 2019 also. Afterall, beneficiary schemes and attractive bonuses have always been key to luring workers back to work after TET holidays. "Paying partial salary before the holidays, increased bonus to new recruits, increased bonus for bringing in new employees to the company are the best ways to bring back workers on time after the holidays. Our HR department is already working on this," further substantiated Long Vu, Material Sales Manager, Youngone Corporation.
The garment workers save their yearly earnings for this one day, but there have been many unfortunate ones who still struggle to make their dreams happen and go on TET holidays. A private textile company based in Binh Duong Province recently came forward to offer complete assistance to one of its employees Tran Dinh Nhat, who couldn't arrange transportation fees to go to his native place during TET festival. In addition to providing financial assistance, the firm also recognised Nhat's extraordinary performance in the past year and gave him a 32-inch television as prize.
Even labour unions in different provinces and cities across Vietnam have been regularly initiating efforts for all those garment workers who remain in the city during the TET holidays. "We do provide bus and train tickets as well as give VND5,00,000 or US $ 22 to all those workers who lost their jobs lately," substantiated Kieu Ngoc Vu, Vice Chairman, HCM City Labour Federation. Another labour union in the southern province of Dong Nai handed out 2,000 subsidised packages (VND5,00,000 each) and 500 bus tickets to workers in 2018. They even tracked down companies that were about to go bankrupt so that employees were paid much before the holiday started.
So, companies have been initiating efforts to help the workers in not only availing the holidays but also in ensuring they get the best once they are back from holidays. Over the years, a lot of garment and textile firms both in South and North Vietnam have been consistently offering attractive year-end bonuses and beneficiary packages to their workers to ensure that they stay with their organisation even after the holidays. There is no better way than doing so. Elaborating more on the same, Nguyen Van Canh, Chairman, Labour Union, The Huong Long Ltd Company averred, "Our company offers the junior employees (with 1 to 3 years experience) bonuses based on their salary coefficients; it is 1.2 times higher for middle-level employees, that is, those with 3 to 5 years experience and double for seniors (those with more than 5 years experience). The firm also provides cars to drop its employees at their native place and then pick them up once the holidays are over."
In fact, according to a recently conducted survey, year-end bonuses and other benefits are the make-or-break factors that determine employees' loyalty. When the employees were asked what would they do if they received no bonus, about 25 per cent said they would quit their jobs and look out for other companies that would offer them better benefits whereas 40 per cent said they would raise concerns and request their employers to provide bonuses. Nearly 14 per cent responded that they would be very disappointed, but would not react as it is difficult to get a new job. Notably, only 7 per cent said their salary was good enough and not getting a bonus was not an issue. There have been efforts made during all these years to ensure workers come back after holidays. It has always been a big challenge for most of the manufacturers in the country to retain workers after TET holidays and hasn't changed much.
2019 has witnessed most of the workers return to work on time after TET holidays and this is significant considering that this time the holidays were longer than in previous years. Regarding the day of the God of Wealth (14 February this year) as lucky, most of the companies decided to reopen their offices and factories on this day and interestingly saw lot of workers returning to work on that day.
Thanh Dat Trading Garment Company, the company that manufactures and exports apparels to US, EU and Japan, saw its workers come to the factory sharp at 7 am with full vigour and determination.
Expressing delight, the company's director said that there were lots of orders in 2019 and therefore it would initiate to increase the income of its workers to around VND10 million per capita per month. Yes, most of the companies are now doing that. A survey done early last year by Navigos had shown 80 per cent of employers agreeing to give bonuses to their workers despite a loss in business – an imminent change in the mindset.
Conforming to the same ideology, Gloria Jeans too has been closely tracking the situation with its vendors' workers to predict any risk of delay in production after 2019 TET holidays. "We were closely in touch with all our vendors before TET so as to take decisions with regard to workers' salary and bonuses in order to ensure that the workers returned immediately after TET. Interestingly this year, most of the workers returned to the factories of our vendors on time. Almost all of Gloria Jeans' vendors in Vietnam haveseen a returning workers' rate of over 90 per cent, which is incredible," said Kirill Alferov, Chief Representative, Gloria Jeans, Vietnam.
Kirill further added that in the first working week, Gloria Jeans will get returning ratio from its vendors to see if there is any problem or not, which will enable it to take immediate action to avoid major delay. "We have a policy of paying 90 per cent of bonus before holidays and to qualify for the balance 10 per cent, we have a condition that they must be present on the first day after holidays. Or else they lose it. Due to this condition, we always have full attendance and 2019 also saw full attendance on first day," substantiated Kamal Mangwani, Vice General Director, Premco Global Vietnam Co. Ltd.
As one of the exporters told Apparel Resources, the bottomline is that if the workers are paid really good and taken care of equally well, there will be hardly any worker who would think of not coming back – or even of coming late – after TET or for that matter any holiday. A change in mindset and business strategy could be the only answer to this long-standing challenge.